Actual (non-hybrid) OS 5.0.0.230 leaked for the BlackBerry Storm 9530
This article contains unofficial information.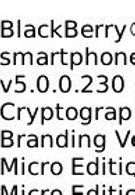 While we get closer and closer to a release of the BlackBerry Storm 2 9550 with its 5.0 BlackBerry OS build, will the owners of the first-gen model get a bone tossed to them from RIM and Verizon? An unofficial leaked OS for the Storm 9530 has been discovered by the dudes at Crackberry. Build 5.0.0.230 is getting good reviews over at the Crackberry forums with users talking about flick scrolling on some apps, better camera functions, threaded texting and a more responsive device overall. Many have been saying that it is like having a new phone. The question is whether or not RIM and Verizon will send out an official upgrade before or after Storm 2 is launched. Sending it out prior to releasing the sequel might improve the original Storm so much that it might stop some from buying the Storm 2. On the other hand, no upgrade to software is going to add Wi-Fi to the 9530 and the improvement to SureType comes from a change from one sensor in the middle of the screen to one in each corner. The bottom line is that those who want Storm 2 will probably buy it regardless of how much better the original Storm gets from an OS upgrade.
We need to remind you that this is not an official release, so be warned. You can brick your Storm or lose your warranty or both if you download the leaked OS on your handset. Having said all that, if you do decide to load up 5.0.0.230 on your 9530, let us know what changes you find whether they make your phone better or worse.
RIM BlackBerry Storm 9530 Specifications
|
Review
source:
Crackberry