Acer takes cover off A1-830: 7.9-inch aluminum tablet with great battery life for just $149.99
12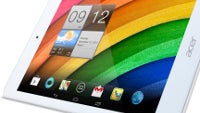 Acer has just unveiled the A1-830, the newest tablet in its A1 series, and it's a stylish aluminum 7.9-inch slate with a price of just $149.99. The Acer A1-830 is a lot like the first generation iPad mini - it has the same 4:3 aspect ratio, 1024 x 768 pixel resolution and great battery life. However, it's running on Android 4.2 Jelly Bean, and is priced at nearly half what Apple asks for its mini.
The first thing you'd notice about the Acer A1-830 is its sleek looks and aluminum body, both things we're used to seeing in pricier products. Being made out of metal, the tablet has some heft to it. It weighs a solid 0.84 pounds (some 380 grams), but at the same time it's also fairly thin, measuring 0.32 inches (8.15mm).
The display is a
"bright"
IPS LCD one spanning 7.9-inches in diagonal. The resolution matches that of the original iPad mini at 1024 x 768 pixels - a farcry from the sharp displays we're used to seeing on tablets like the Nexus 7 and the iPad mini with Retina, but let's not forget we're talking about a very affordable device here.
Under the hood, the Acer A1-830 features an Intel Atom Z2560 (or Clover Trail+) processor clocked at 1.6GHz and 1GB of LPDDR2 RAM. The energy-savvy chip contributes to the great battery life of the tablet - the new A1 promises to keep going for 7 and a half hours on a single charge.
The tablet comes with both a rear and front facing cameras. Acer does not disclose the resolution of the cameras (there likely are a 5-megapixel rear and a 2-megapixel front cameras), but it does say the rear one is capable of recording 1080p full HD videos and the front shooter captures 720p video. The media experience is boosted by the presence of dual speakers. The tablet comes with 16GB of internal storage, and you can further expand on this via microSD cards.
Acer also offers some custom-made accessories for the A1-830. The Acer Crunch keyboard is built inside a soft synthetic leather case and can double up as a stand. There is also the Acer Crunch Cover, a microfiber stand that folds into multiple angles, and coming in several colors.
All in all, the Acer A1-830 looks a lot like an Android-running iPad mini. It's got the same 4:3 7.9-inch 1024 x 768 pixel screen, a sleek aluminum body and an excellent 7.5-hour battery life. It's coming to the United States and Canada in Q1 2014. Not bad for a $149.99 tablet, is it?

Acer Debuts Iconia A1-830 Tablet –
Premium, Stylish Design with 7.9-Inch IPS Display
Editors' Summary:

Stylish, premium design features aluminum metal back cover
Stunning visuals on 7.9-inch LED-backlit display with IPS(1) technology
Great performance with Intel® Atom™ processor and dual speakers for rich audio
Ideal for consumers who want a superior tablet for enjoying web browsing, casual gaming, sharing and staying connected
Build Your Own Cloud (BYOC™) for creating reliable, more secure and easy to use self-built clouds

LAS VEGAS, (Jan. 3, 2014) - Acer America today unveiled the new Acer Iconia A1-830, a 7.9-inch Android tablet with a premium and stylish design, vibrant IPS display(1), responsive performance and rich sound, starting at just $149. The Acer Iconia A1-830 is ideal for consumers who want a superior tablet for enjoying web browsing, casual gaming, sharing and staying connected.

The new Acer Iconia A1-830 debuts at this year's 2014 Consumer Electronics Show in Las Vegas. It will be shown for the first time at Pepcom's Digital Experience! media event on Monday, Jan. 6, which highlights some of the hottest gadgets and technologies debuting this week.

"Our fundamental goal when creating the Acer Iconia A1-830 was to provide our customers with an optimized Android tablet that stands out from other devices," said Jerry Kao, associate vice president of Acer Mobile Consumer Business Unit. "Consumers expect more than ever from value-oriented products, and the Acer Iconia A1-830 tablet delivers much more than tablets in this class with its vibrant IPS display, premium aluminum metal finish and great performance and sound."

Stylish Design with IPS Display

The tablet features a premium design with an aluminum rear cover and a metal mid-frame to add strength and rigidity to the device. This durable design provides additional protection for the 7.9-inch display (1024 x 768 resolution) with IPS technology. The IPS display offers crisp and accurate colors from viewing angles up to 178 degrees for an enhanced visual experience. The 4:3 aspect ratio provides a large viewing area for browsing websites and reading.

The premium chassis features an elegant silver design that is comfortable to hold thanks to its smooth finish and rounded edges. The tablet is stylish and portable at only 0.84 pounds. Also, the 7.9-inch display is surrounded by a sleek bezel and measures only 0.32 inches (8.15mm) thin, so it's easy to hold in just one hand for convenient multi-touch.

Performance and Long Battery Life for Web-Browsing and Entertainment
The Acer Iconia A1-830 is powered by an Intel® Atom™ (Clover Trail+) Z2560 1.6GHz processor and 1GB of onboard LPDDR2 SDRAM, so it delivers fluid and fast navigation through apps and websites, smooth video playback and better mobile gaming.

"People continue to demand more from their tablets, and we must stay ahead of what they need and want to do," said Hermann Eul, corporate vice president and general manager for Intel's Mobile and Communications Group. "Acer has designed a tablet that does just that using our multi-core multi-threaded Intel Atom processor for Android. The new Acer Iconia A1-830 provides a smooth, seamless and responsive Android-based mobile experience for multitasking, web browsing and gaming. We're excited to see another Intel-based Android tablet available for consumers."

Designed for a great portable media experience, the Iconia A1-830 plays vibrant video and movies. Customers will enjoy their media even more with dual speakers for rich stereo sound. There is plenty of room to store media and apps with the tablet's 16GB of storage, as well as via the microSD slot that supports cards up to 32GB(3). The Iconia A1-830 also features the Android 4.2.1 Jelly Bean operating system and 7.5 hours of battery life.

The Acer Iconia A1-830 keeps consumers connected to Wi-Fi networks with 802.11b/g/n wireless. Its rear-facing camera captures 1080p HD audio/video recording with a 2560 x 1920 resolution. The front facing camera is great for video chats and capturing images with a 1600 x 1200 resolution for 720p audio/video recording. Plus, the tablet's integrated microUSB and Bluetooth 3.0 lets consumers quickly connect the tablet to a variety of other devices, such as headsets and speakers.

Acer PCs can be seamlessly integrated for accessing data anytime, anywhere - through Build Your Own Cloud (BYOC™) (4). It enables users to build their own cloud on their devices, such as music, photos and other types of clouds. These self-built clouds, based on an Acer Open Platform, are reliable, more secure, easy to use and provide users convenient access to their information and content anytime, anywhere.

Accessories for Extra Productivity and Protection

A variety of optional accessories make the tablet experience more enjoyable and productive.

Acer Crunch Keyboard — For users who need a keyboard, Acer offers a state-of-the-art, ultra-slim Crunch Keyboard that is built into a soft synthetic leather case. The keyboard easily folds outs while the case serves as a tablet stand. The keyboard is only 0.21 inches (5.3 mm) thin, offers Bluetooth 3.0 connectivity and is rechargeable via microUSB.

Acer Crunch Cover — Made with durable microfiber, the Crunch Cover folds out into a tablet stand with multiple angle settings to suit a range of user preferences. The slim-fit cover provides access to all ports and is available in several colors.

Other options include a protective case, protection film and adaptor kit with bag.

Pricing and Availability

The Iconia A1-830 will be available in North America this quarter starting at a manufacturer's suggested retail price of $149.

About Acer

Established in 1976, Acer is an information and communication technology company dedicated to the research, design, marketing, sale and support of innovative products that enhance people's lives. Acer's green supply chain delivers environmentally friendly PCs, displays, projectors, servers, tablets and smartphones — tools our customers need to explore beyond limits and experience more. Ranked No. 3 for notebooks globally (IDC 2012), Acer employs 8,000 people, and 2012 revenues reached US$14.7 billion. Please visit www.acer.com for more information.

© 2014 Acer America Corp. All rights reserved. Acer and the Acer logo are registered trademarks of Acer Inc. Other trademarks, registered trademarks, and/or service marks, indicated or otherwise, are the property of their respective owners. All offers subject to change without notice or obligation and may not be available through all sales channels. Prices listed are manufacturer suggested retail prices and may vary by location. Applicable sales tax extra.

All brands and product names mentioned herein include trademarks of their respective companies and are used solely to describe or identify the products
Actual battery life varies by model, configuration, applications, power management settings, operating conditions, and utilized features. A battery's maximum capacity decreases with time and use.
Accessible capacity varies: (MB = 1 million bytes; GB = 1 billion bytes). User-available storage subject to change based on system software and application usage.
Acer BYOC available on Acer PCs with Windows and Android.