Acer Liquid Leap+ smart fitness band hands-on
3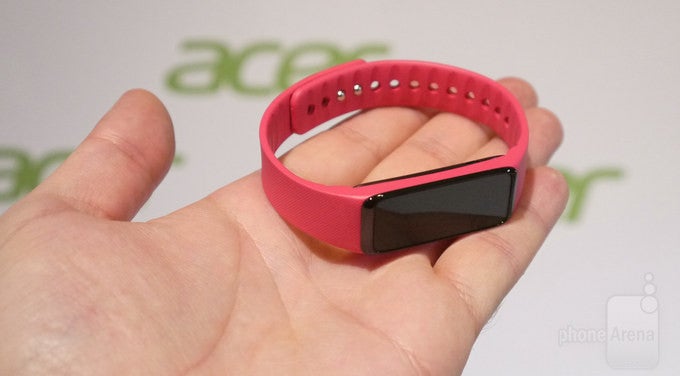 Acer recently broadened its product portfolio with the addition of a fitness band, the Liquid Leap, and at MWC 2015 in Barcelona, we got to see a refined model of it, the Acer Liquid Leap+. Using its sensors, the latter does all that a product of this category should. It counts the number of steps you've made, it calculates the calories you've burned, it monitors your sleep behavior, and so on. But it also pulls your phone's notifications and displays them right on your wrist, which is neat. Also, you may play, pause, or skip songs on your phone with taps on the accessory's touchscreen. Better yet, the Acer Liquid Leap+ is water-resistant and works with the three most popular smartphone operating systems, namely iOS, Android, and Windows Phone.
While the unit we got to handle at MWC was attached to a pink strap, one may easily exchange it with one of a different color. The material is nice, soft, and has a rubbery feel to it. There's a metal piece that holds the strap securely tied around your wrist, and while we found it a bit hard to take off, at least it is good to know that the gizmo won't fall off as you jog.
As for the screen on the Leap+, it is a basic, 1-inch OLED display. While far from the prettiest screen on a wearable, it uses very little energy, hence the device's respectable battery life of around a week when used normally. Connection to a phone is made over Bluetooth 4.0 LE, which also contributes to the low power demands of Acer's smartband.
The Acer Liquid Leap+ can be bought for around 79 euro, which translates to 86 dollars. This ranks it among the more affordable products of this kind. In fact, the price is more than adequate for the features the Leap+ provides. Look for it on shelves near you before March's end.