Acer Liquid E3 hands-on: front facing LED flash for those selfies
7
Acer's smartphone presence during MWC 2014 isn't as intensive in comparison to what we saw over CES 2014 early last month. Considering that it's more focused on mobile, it's not too surprising that we only saw two new models – the Acer Liquid E3 and Liquid Z4. In this particular hands-on, we're checking out the "
beefier
" model between them, the Liquid E3, which is a dual-SIM Android powered smartphone with a couple of unique features.
Design
If you're a devout follower of Acer's Liquid series smartphones, the design of the Liquid E3 is a familiar one that suits its particular taste. The body itself is constructed out of matte plastic, which is the sturdy variety that not only gives it a lightweight feel in the hand, but at the same time, it's accompanied with a decent build quality. Holding it isn't a problem at all considering its form-fitting nature and comfortable feel.
All the usual items are found littered around its trims, like its power button, volume controls, 3.5mm headset jack, and microphone. However, there are several new additions that surprise us. First and foremost, it's useful that the microSD card slot is accessible from the right
edge
of the phone – so inserting/removing it isn't a hassle. Furthermore, the left edge is home to its dual microSIM slots, giving some depth for those folks who happen to need two phone numbers attached to a single phone. And finally, the rear sports a recessed Acer RAPID key, which is a programmable button that enables users to do things like launching the camera, unlocking the phone, running the music player, etc.
Overall, the design doesn't stray too far from the norm we've seen from Acer in the past. Indeed, it's not a premium thing that would make us drool, but factoring in its affordable price, we can't complain about the end result.
Display
Sporting a 4.7-inch 720p IPS display, it fits the handset's purpose. Details are sharp for the most part when viewing it from a normal distance, which is something we're content to find when we do not have to squint immensely to make things out. Relying on good 'ol IPS LCD technology, colors have a natural tone to them – while its okay viewing angles minimizes distortion. Frankly, the specs here aren't intimidating to say the least, but it's nevertheless a pleasant looking screen.
Interface and functionality
Acer continues to tinker around with its customized Android experience, and it shows here as well with the Liquid E3. Running its customized experience on top of Android
4.2
.2 Jelly Bean, it's nice to see that the UI is for the most part, not as obstructive as some other experiences. Sure, we have some specific Acer widgets and enhanced Acer icons littered throughout the homescreen, but the experience is a fairly simple one.
Using the RAPID key in the rear of the phone, it's nice that it can be programmed to execute a variety of things – though, it appears that it can only be programmed for one thing. Regardless of that, it's just nice having the quick access to a particular app or function.
Processor and memory
Quad-core processors have come far from its humble beginnings, so it's no surprise that it's now spreading across a wide variety of mid-range devices. Inside of the Liquid E3 is a quad-core 1.2GHz processor coupled with 1GB of RAM, which gets the job done with simple tasks, but it'll be interesting to see how it fares with more processor intensive stuff.
We're not too sad to find it stuffed with 4GB of RAM, seeing that it packs along a microSD card slot, which unlike some other devices, has its slot on its right edge – as opposed to being underneath the rear casing or battery.
Camera
Now this is where it gets interesting, though, it actually pertains to its front-facing camera. Before diving into the nitty gritty, it features a sizable 13-megapixel auto-focus rear camera with an LED flash. It's certainly a beefy sized count, which shows as it juts out from the surrounding area. Timing is key when it comes to snapping the moment, so Acer is touting its "
ultra-fast
" focus time.
Taking our attention to its other camera, a 2-megapixel front-facing one, it's most notable for the LED flash that's discretely tucked into the left corner of the screen. No longer will selfies need to appear under exposed under low lighting situations, since the flash is there to combat it – so photos with the front-facing camera will come out better.
Expectations
The European market is going to be in for a special treat, mainly because the Acer Liquid E3 will be bearing a price point of €199 ($275 USD) when it launches this April. Throw in its dual-SIM feature and mediocre specs, it's sure to appeal to those budget conscious users who don't want a compromised experience. Of course, it'll depend on how the handset actually fares in the end, so we'll be reserved at the moment with our impression.
Acer Liquid E3 hands-on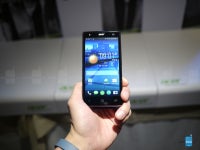 Acer Liquid E3 screenshots