Acer Aspire Switch 10 hands-on
4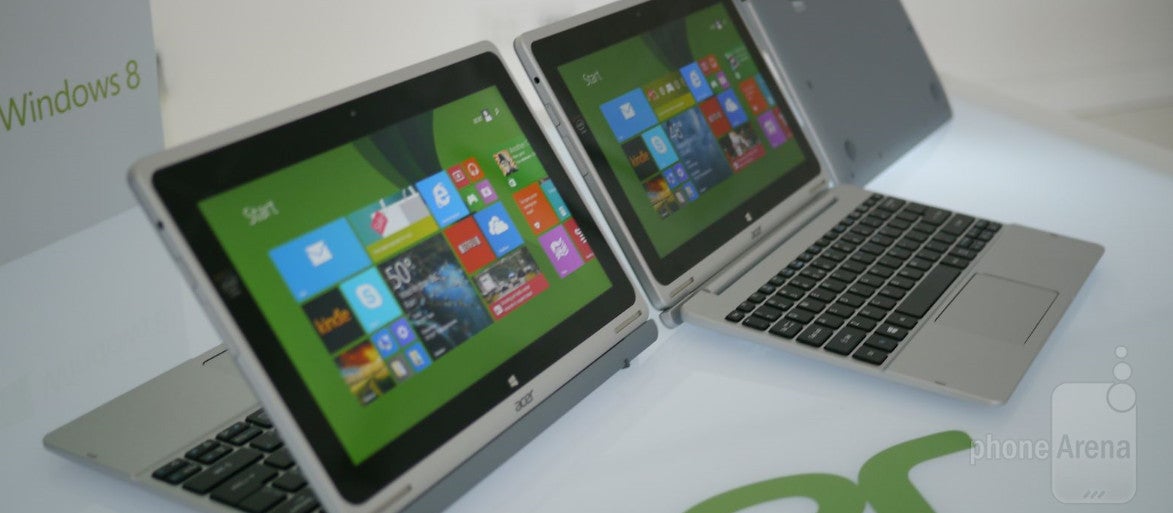 The two Android based tablets unveiled at Acer's event in New York City on Tuesday might be targeting specific users who require cheap and affordable tablets, but Acer wasn't shy to show the same kind of presence in the Windows side as well. Borrowing elements we've seen established by Lenovo's line of Yoga mobile computing devices, the Acer Aspire Switch 10 is aiming to accomplish the same feat, but in a more compact and affordable package. Part tablet, part full-blown laptop, this 2-in-1 device ensures itself as being a useful gadget on the road – where work and play can mix together.
Design
Wow! We have to admit, there's something tantalizing about the design of the Acer Aspire Switch 10. As a 10.1-inch tablet, it surely does its best to exude a premium finish – where it attempts to replicate a metallic finish with its silver bodied plastic chassis. Nevertheless, it feels pretty solid and manageable to hold in the hand, so we don't have any complaints regarding the tablet form factor of the device.
Attaching it to the keyboard dock, it transforms into a full-fledged laptop equipped with a QWERTY keyboard that's pretty easy to use. The connection between the two is achieved by the Acer Snap Hinge, which essentially relies on magnets for the firm grasp – with little worry regarding it coming apart. In this mode, we can flip the tablet all the way into either its display or tent modes. These two particular modes provide us with better comfort when it comes to watching videos on the road, or showing content for a presentation.
Display
Featuring a 10.1-inch 1366 x 768 IPS display with Zero Air Gap technology, it makes it extremely visible to the eye in bright light situations. Indeed, it would've been nice to have a higher resolution panel, but when taking into consideration its price point, we can't be too surprised. In addition, its wide viewing angles, crisp looks, and robust color reproduction lends itself in being a pleasant display that our eyes take delight on.
Interface
Being a Windows 8.1 device, the experience shouldn't be much of a shocker here, seeing that it's exactly like any other Windows 8.1 device on the market right now – albeit, it's accompanied with some Acer branded apps. On one hand, it's a great productivity tool on the road that empowers us with the tools to get stuff done on the road. And on the other, it's also a fun tablet that's certain to entertain with its rich media-centric features.
Processor and memory
Calling the shots behind the scene is a quad-core Intel Atom Z3745 processor coupled with 2GB of RAM and an Intel HD Graphics GPU, it retains a very responsive performance right out of the gate. For those tablet-optimized apps, there's no slowdown with their operations, but we can only imagine that it might suffer with certain legacy software that require more muscle to operate – like some photo or video editing software. Regardless, it'll be able to accomplish those tasks, but it'll probably take longer to finish than its beefier spec'd rivals.
When it launches, the Acer Aspire Switch 10 is going to be available with either 32GB or 64GB of memory, which can be supplemented thanks to its microSD card slot.
Camera
You'd think they would arm this with a rear camera, but that's sadly not the case. Instead, the only camera on this device is a 2-megapixel front-facing one for video chatting and snapping a few selfies.
Conclusion
Out of everything, we're most astonished by its $379.99 cost when it launches sometime in late May. The pricing includes the keyboard dock as well, which normally adds a separate cost with other tablets – so it's an entertaining prospect to consider. Knowing that it's a full-functioning Windows 8.1 laptop, it has advantages in the productivity side against other Android tablets. If you're looking for an inexpensive hybrid device, the Acer Aspire Switch 10 is undeniably an option you'll want to consider!