Acer Aspire P3 hands-on
2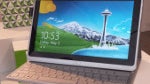 Introduction:
From what it looked like, the
Acer Aspire R7 seemed like the headliner
at Acer's press event today. Quite frankly, though, we were most interested by another convertible style device that's on the complete opposite end of the spectrum. Significantly
more compact
than the behemoth of a laptop in the Aspire R7, the
Acer Aspire P3
is something that's going to appeal to those who prefer something more sleek and portable to bring along for the ride.
Display:
Essentially a tablet at its core, the Aspire P3 is packing along an
11.6-inch 1366 x 768 IPS display
, which is nothing to write home about amongst Windows 8 tablets, but it's more than sufficient to get work completed. With its 170-degree wide-viewing angle, we're able to keep focus of everything that's on screen – so there doesn't seem to be much worry if you'll be using this outdoors a lot with the sun present. Although it's effective enough for most tasks, we're not as enamored by the display, even more when we've been spoiled by 1080p resolution on many other similar Windows 8 tablets.
Design:
Getting a cursory look at the compact slate, we really can't complain too much about the design. As a tablet, it's nice to see that it's sporting a metal-like bezel, which gives just a
dash of premium to its construction
. Beyond that, Acer is really marketing the Aspire P3 as an
ultrabook
– mainly because of the
keyboard case
that's attached to it. Unfortunately though, we can't say it's the best keyboard dock we've seen, seeing that there's minimal travel with its chicklet style keys. On top of that, the tablet essentially stays in a fixed propped position by placing it accordingly into the groove that's on the keyboard case. And finally, there's also an
optional stylus
that you can purchased, which strangely is placed along the side of the case – as opposed to being tucked away somewhere more discrete. Overall, we dig its "
convertible
" aspect, but most of all, its compact form factor and lightweight feel makes it an ideal candidate for hardened travelers.
Interface:
It's
Windows 8
yet again folks, so there's nothing we'll cover more in-depth about it. However, knowing that this tablet has a useful keyboard and an optional stylus, it definitely broadens its depth of usability. Therefore, if you're merely using this for leisure, or accomplishing some serious work, the Aspire P3 is no doubt going to be fit for any occasion.
Expectations:
As for the rest of the specs, the Acer Aspire P3 features an Intel Core i3/i5 processor, 2GB/4GB of RAM, 60GB/120GB storage, Intel HD Graphics 4000 GPU, 5,280 mAh battery, 720p front facing camera, 5-megapixel rear camera, 802.11 a/b/g/n Wi-Fi, 1 USB 3.0 port, Bluetooth 4.0, and a microHDMI port. All told, the base model of the Aspire P3 will sell for a modest
$799.99
, which really gives it a competitive advantage in the ultrabook category.