Acer Aspire R7 hands-on
7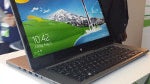 Introduction:
At Acer's press event in New York City today, the PC maker was quick to show off its upcoming convertible behemoth in the
Acer Aspire R7
. Seriously folks, it's a beastly thing and isn't necessarily part of the ultrabook category; thankfully so. However, if you've been dreaming about a wicked convertible style tablet that's packing all the drool worthy specs to make it an enticing desktop replacement, this is surely going to be right up your alley.
Display:
So let's get the specs out of the way with this beast! For starters, it features a
15.6-inch Full HD (1920 x 1080) IPS touchscreen
with 300 nits of brightness. Certainly, it's scrunched right in that sweet spot for powerhouse tablets, but what's unique with the Acer Aspire R7 is that the display is
held in place by a single hinge
– enabling it to go from laptop mode to tablet in one quick movement. At the same time, however, the display can be adjusted for various degrees of viewing. Therefore, if you're working on something and want to flip the screen around to show people what you're doing, you can do just that with this. For a convertible, it's not a particularly new concept, but we're a bit
skeptical
how its single hinge will put up with normal wear and tear. Stranger yet, Acer decided to place the trackpad above the keyboard, which makes for some awkwardness at the beginning.
Design:
As for the keyboard itself, there's really nothing to complain about it, since it's spacious enough to type casually – while its buttons are spaced far from one another and have good travel. Did we mention that it also features backlighting for added convenience? For a tablet, there's no arguing that it's an unwieldy thing that require two-handed operation for proper usage. So yeah, it works wonderful with its adjustable display as a regular everyday laptop, but it's not something we'd want to get cozy with in bed using it in tablet mode. Visually, the design is pretty much straightforward, as it doesn't have much of a wow factor – especially when its casing is mostly comprised out of plastic and some metal. Weight wise, there's no arguing it's going to be a burden in a backpack, but hey, it's not all surprising considering the category it's in.
Interface:
Well, there's nothing particularly new in this front with the Acer Aspire R7, seeing it's running Microsoft's Window 8 64-bit out of the box. Knowing that we have the convenience of having a touchscreen on this bad boy, navigation and various operations are easily executed – so yes, the productivity aspect is surely up there. In addition, seeing that its display can be flipped around, it's ideal for things such as presentations. Aside from that, it's your same old Windows 8 experience we're familiar with by now.
Expectations:
Even with the base configuration, the Acer Aspire R7 is without question a powerhouse. Maxing it out, you can get the R7 with up to 12GB of RAM, NVIDIA GeForce GT 750M, 256GB SSD, Bluetooth 4.0, and 802.11 a/b/g/n Wi-Fi. Taking into account its size and supreme specs sheet, it wouldn't surprise us that cost will be something considerable. In fact, Acer didn't mention pricing at all with the R7, but it'll be available soon in the US through Best Buy later this month. When ultrabooks seem to be keeping laptop in general afloat nowadays, the Acer Aspire R7 is regarded more as a specialty device – mainly due to its beastly size and convertible form factor.