Acer Allegro hands-on
8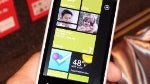 Wow, for something that's aimed to be dirt cheap, we're surprised to find the
Acer Allegro
, a Windows Phone 7.5 Mango smartphone, to be rather peculiar looking compared to the usual crop of Windows Phones out there. Yesterday, we got the opportunity of checking out this Mango flavored device that's aimed for those consumers who don't want to
pay an extravagant amount for a decent device
.
Granted that it's comprised out of mostly plastic, its glossy and shiny appearance does help it to be favorable – even though it's not the most soundly durable thing we've checked out. Thankfully, its choice of materials enables it to feel compact and lightweight in the hand. And of course, it's perfectly curved in the rear to gently land snuggly into our hand with plenty of comfort and ease.
In keeping its price firmly on the low side, its hardware specs aren't hardly worth bragging about – since they're close to what we've seen with first generation Windows Phones. Specifically, it features a 3.6" WVGA touchscreen, 1GHz single-core processor, 5-megapixel auto-focus camera (no flash), 720p video recording, aGPS, Bluetooth, Wi-Fi, and Windows Phone 7.5 Mango.
Honestly, it's not going to impress people with its hardware specs, but of course, not everyone is going to want something that's fully packed with cutting edge technology. Rather, it's going to win over some people thanks to its inexpensive costs – though, it's not certain if it'll see light here in the US market. But if you happen to know someone overseas in Europe, you ought to let them know about this one, especially if they're strapped for cash.