Accessory combines capacitive stylus, USB thumb drive, smartphone stand into one
4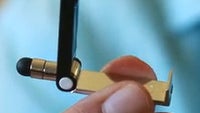 Kickstarter is a place where lots of cool and innovative ideas are transformed into real, tangible products. One such project is the US3 Drive, which combines three functions into a single device that easily fits into any pocket. The accessory is essentially
a USB thumb drive that comes with a built-in capacitive stylus
that works on the screens of pretty much all smartphones and tablets today. In addition, it can be used as a stand for any smartphone that isn't too big to fit. That the US3 Drive is waterproof is a welcome feature so you know it will make it through a full cycle if accidentally dropped in the laundry.
The US3 Drive is planned to be available in multiple capacities, all featuring reliable memory chips made by Samsung. Pledging as low as $20 to the project gets you an 8GB model in either black or white, and if you choose to get the largest version, that would require a $75 pledge. If enough funding is raised for the US3 Drive, it will be shipped to early backers in November of 2013.
As of this writing, the project has collected 43% of the money it is asking for, with 30 days left to meet the $20 000 target. Check out the source below for further details if you want to chip in.