Access Linux Platform ready to go?
2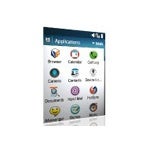 The Access Linux Platform was seemingly
announced
a decade ago and has been delayed so frequently that many were writing it off as vaporware, but Access announced today that ALP 3.0 and ALP Mini are about ready to hit store shelves. ALP 3.0 is basically the next generation Palm OS; it features LinMo compatibility and a pretty OS with detailed transitions and animations. ALP Mini, available immediately for licensing, is a watered down version for feature phones and even non-cellular devices, though it drops Palm Garnet compatibility and native Linux applications.
NTT DoCoMo has committed to carrying ALP phones but they will most likely not drop until the second half of 2009. The
Edelweiss
smartphone we told you about last week was also confirmed for Russia, though no timetable or carrier was given. This is all well and good, but after years of delays we have a feeling that it's all
too little, too late
for Access.
source:
Palm Infocenter
via
Engadget Mobile