AT&T's CEO says it's time to get customers to use more of the network
29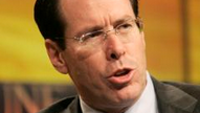 AT&T CEO Randall Stephenson came forward on Tuesday to say something that others have known for years. The days of carriers paying subsidies so that customers can buy new handsets is coming to an end. Stephenson pointed out that with smartphone penetration in the U.S. at 75% and soon to reach 90%, the goal of the carriers needs to move away from getting people on the network to getting them to use
more
of the network.
The executive pointed out that AT&T was the first carrier to get rid of unlimited pricing plans, replacing them with shared data plans. Now, 7 out of 10 AT&T customers are using such a plan. Moving to the heart of the matter, Stephenson said that it is not easy trying to get customers to break their habit of buying a new phone every two years. But he said it is worth it because a program like AT&T Next, which offers phones for zero down with monthly installment payments, is a more sustainable way to get smartphones into customers' hands.
"If you are a customer and you don't need to upgrade your device, you can get unlimited talk and text and access to the data network for $45 all-in. You can use your own device or finance it. I think this will be very powerful. It's where we see the market going."-Randall Stephenson, CEO, AT&T
Stephenson explained that carriers have built out their networks to increase capacity and have worked hard to get customers to focus on smartphones. Now that traffic is less of an issue, AT&T can start pushing low end models. Turning to
AT&T's acquisition of Leap Wireless
, the CEO said that AT&T is getting the pre-paid carrier's spectrum and the pre-paid name and business. What is the game plan for AT&T with the purchase of Leap? "
You will see us go very aggressively in the prepaid market
," said the executive.
source:
CNET