AT&T updates the BlackBerry Passport and BlackBerry Classic to 10.3.2.556
33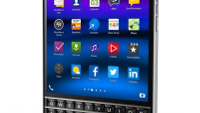 The AT&T version of the
BlackBerry Passport
replaces those sharp edges on the original model, with smooth, rounded corners.
Outside of the cosmetic change, the specs remain the same
and the phone keeps that clear 4.5-inch LCD screen and 1440 x 1440 resolution. BlackBerry promotes the device's wide screen as a huge advantage for those in the enterprise who use their phone to read memos and documents; the hybrid physical and virtual QWERTY makes it a breeze to type out emails and messages.
On Wednesday, AT&T started pushing out BlackBerry OS 10.3.2.556 to the Passport and the
BlackBerry Classic
. The latter brings back some of the old school features such as the trackpad and function keys that the manufacturer had done away with. And don't forget the awesome physical BlackBerry QWERTY that makes communicating with others so much easier.
The update to BlackBerry OS 10.3.2.556 is available to the AT&T branded Passport and Classic models only. If your Passport is sporting square corners, this update does not apply to you.
BlackBerry OS 10.3.2.556 enhances the Amazon Store. The store is where BlackBerry 10.3 users can find Android apps to run on their handset. The update also fixes an issue with the browser applicable to Work space only activated devices. And lastly, some enterprise owners of the two devices will see an improvement to the email application on their phones.
Let us know if your AT&T Passport or Classic has received the update by dropping us a comment in the box below.
source:
Crackberry