AT&T tricked by Senate questioning; carrier admits it was big enough to handle Apple iPhone launch
25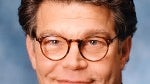 In a U.S. Senate hearing Wednesday to determine if the proposed acquisition of T-Mobile by AT&T would be anti-competitive, Senator Al Franken got the best of AT&T CEO Randall Stephenson. Keep in mind that what the Senate wants to hear is that AT&T is not some gigantic company that would be able to gouge the public and grab exclusives on handsets once it gobbles up the nation's fourth largest carrier.
Stephenson was asked by Senator Franken, a former television comic, if the executive thought that the original launch of the Apple iPhone could have gone to a regional carrier instead of AT&T. Stephenson replied that he thought that Apple would not have wanted a smaller carrier for the launch and would rather have had a
large
national firm like AT&T handling the release of the handset.
A number of witnesses came out against the transaction. Cellular South CEO Victor Meena said that AT&T used its "market power" to get the iPhone exclusive which ended earlier this year when Verizon launched a CDMA version of the popular cell phone. Democrat Senator Klobuchar chimed in with statistics showing that AT&T owned 44% of the cell phone market, enabling them to get any device they want to offer.
CEO Stephenson downplayed the importance of the Apple iPhone on AT&T's growth, contradicting past statements that stated how important the device is to the growth of the carrier. AT&T has always noted that Apple's device was the top selling handset for AT&T ever since its 2007 launch and the company has always broken out sales of the phone separately when releasing earnings. By making the iPhone sound insignificant, AT&T can claim that its size did not allow it to report huge profits at the expense of smaller carriers.
source:
electronista
Recommended Stories