AT&T to open doors at 7am on day of iPhone 3G S launch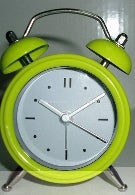 A video made by an AT&T employee details how the carrier plans on handling the long lines that are sure to show up on the morning of June 19th at AT&T stores to buy the iPhone 3G S. There will be two lines in front of the store. One will be for those who have pre-ordered the device and that line will be able to enter the store at 7 am to pick up their order. The second line will be made up of those who want to buy the handset on the first day, but did not pre-order. That line will not be allowed into the store until the normal opening time. Once in the store, members of that line will have to stand behind those remaining from the pre-ordered line. Got it? Best bet apparently is to pre-order the new iPhone. If you don't like crowds, you can still pre-order the device online and have it shipped directly to you for arrival on the 19th. Of course, the 8GB and 16GB versions of the iPhone 3G are available right now at $99 and $149 respectively.
The video from the AT&T employee can be seen at the source link.
Apple iPhone 3G S Specifications
source:
Obsessable