AT&T to keep iPhone through 2011?
This article contains unofficial information.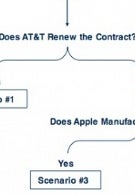 Amid talk that AT&T is about to lose its iPhone exclusivity in the U.S., Credit Suisse analyst Jonathan Chaplin writes that the carrier will be keeping its hold on Apple's touchscreen handset for the next 12 to 18 months. Chaplin says that AT&T will use the remaining time it has as the sole U.S. provider to clear up the problems with its network so that its customers will have a good iPhone experience for the last few months of exclusivity. If current AT&T iPhone customers have a great network experience, they are less likely to follow the unit to a new network like Verizon, when the handset is allowed to become a free agent in the U.S. Chaplin's report says that there is a 75% probability that the iPhone stays exclusive on AT&T through 2011. Once the exclusivity period is over, the analyst sees a CDMA version of the device becoming available for both Verizon and Sprint.
Apple iPhone 3GS Specifications
|
Review
source:
Gigaom