Verizon, Sprint and AT&T examining the option for shared data plans
13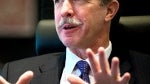 Verizon, Sprint and AT&T's CEOs all said recently at various occasions, that they are looking into the possibility to introduce shared data plans, which can be used by more than one device. Verizon's new boss Daniel Mead said in an interview for the Wall Street Journal: "Describe it as
account-level pricing
". Mr Mead also added that Verizon is considering the introduction of metered data.
Sprint's head Dan Hesse mentioned in his Q&A session at the D: Dive into Mobile conference last week that the carrier is considering data plans that will cover
more than one device
. And, finally, at the same conference, we have AT&T's main man Glenn Lurie straight out declaring that they are taking a wait&see approach to see where data consumption is heading, so as to evaluate eventual family plans for data pricing. ""Family plans were born because there were three or four devices in the house. We're obviously looking like that. Maybe
a bucket with four or five devices eating from it
… We're looking to see where this will go.", AT&T's boss said.
It's really a no-brainer that things will be heading this way, we are just wondering why is it taking so long for carriers to realize the cash cow this might be. We now have voice and data traffic evened out, and in 2011 data will most likely overcome voice. Then the
VoIP with HD voice services
, which offer better talk quality, will be used by more and more people, so the carriers will probably jump on that bandwagon too, and that will shift the focus from voice to data completely.
Shared data plans will become as popular as family plans are now for those same reasons, just don't expect
Verizon's measly 5GB or 10GB plans
to survive at that cap (and that price) for long, when shared data is introduced. We are already hearing the nice little family scandals, after the head of the house felt the overage pains, because the offspring blew through the monthly allotment in one night.
source:
PCWorld
&
WSJ
Recommended Stories