AT&T to buy Vodafone in 2014?
13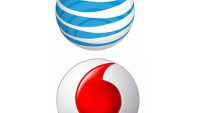 A published report on Friday says that AT&T has already started working on a deal to buy Vodafone as early as next year. The companies have yet to start negotiating, but already AT&T has been trying to determine which assets of Vodafone it will keep and who would be interested in the rest of the company. AT&T is looking to spread American-style mobile broadband throughout Europe where it has not been rolled out as widespread as in the U.S.
An AT&T-Vodafone merger would create the world's largest mobile operator by revenue. The second largest mobile carrier in the states has been looking at Vodafone and earlier this year, tried to work out a three-way deal with Verizon. That deal would have seen AT&T purchase the European operations of Vodafone, and give the 45% of Verizon Wireless owned by Vodafone back to Verizon. America Movil would have taken the rest. This three way transaction is apparently off the table.
A deal between AT&T and Vodafone would give the surviving company 500 million subscribers, but will have to wait for
the separate deal Vodafone has with Verizon
to close. This will let Verizon buy back the 45% of Verizon Wireless owned by the European carrier. Once that is out of the way, AT&T will have to decide whether or not it wants to proceed with a bid. If it does gain control of Vodafone, AT&T could package the operator's emerging market assets in Africa and India into a bite-sized package ready to be purchased by China Mobile or America Movil. If a deal with Vodafone can't be worked out, AT&T is said to have a backup in mind with EE in the U.K. That operator was the first to offer LTE in the region.
Facing stiff competition at home, where T-Mobile has been the most innovative, AT&T is hoping that the mobile landscape is more fertile overseas.
source:
Bloomberg