AT&T starts throttling speeds for heavy iPhone data users to crawling 2G
30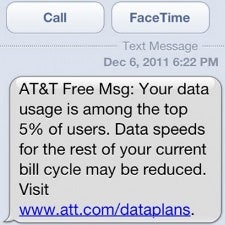 AT&T has started sending out a warning message saying that the carrier is throttling users because their data usage is among the top 5% of their users. Reportedly,
speeds are throttled down to snail-fast 2G
.
Many users grandfathered from unlimited plans have complained that they have received the message after downloading 2GB of data. Now, that doesn't exactly sound like heavy data usage, does it? If so, this means that 95% of AT&T users consume less than that. Interestingly, the carrier also claims that these 5% of users consume a dozen times more data than the rest.
"Your data usage is among the top 5 percent of users. Data speeds for the rest of your current bill cycle may be reduced."
That's the message received and after that the throttle kicks in.
Have you received AT&T's throttling warning? How much data did you use, if so? Let us know in the comments below.