AT&T resorts to a cute kitten for Samsung Infuse 4G ads: "colors so realistic, it's almost unreal"
11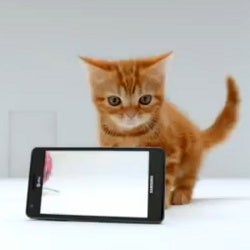 You might think that if a company resorts to cute kittens for promoting its products, it's either that the product is in dire need to sell or the company has some brilliant marketing. In this case, we're inclined to think it's the second as AT&T has armed its sales people with an irresistibly cute kitten showing affection for the huge
4.5-inch WVGA Super AMOLED+
screen of the
Samsung Infuse 4G
. Sure, that fish from the Samsung commercial might have fallen for the punchy colors of the Super AMOLED+ screen on the Samsung Galaxy SII, but this ginger kitty is probably the ultimate tester. After nearly a minute of playing with a woven ball, AT&T concludes: "colors so realistic, it's almost unreal."
Check out the series of commercials below where the whole animal kingdom gets to play with the screen, but for the human perspective, feel free to check out our in-depth
review of the Samsung Infuse 4G
.