AT&T named the Most Admired Company in telecommunications by Fortune magazine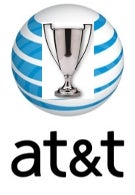 Fortune magazine has named AT&T as the Most Admired Company in the telecommunications business. For Ma Bell, that is the 11th time in the last 14 years that it has been given that title by Fortune. The magazine also named the telecom firm as one of the 50 Most Admired Companies in the world, regardless of industry, for the second time. The firm joins other companies like Wal Mart, Visa, and FedEx as other businesses ranked number 1 in their respective industry.
As a change from the format from other years, this year the world's and America's Most Admired Companies were put together in one global survey. To determine the most admired firms, executives from Fortune 1000 and Global 500 companies were asked, along with financial analysts, to find which corporations have the strongest reputation inside and outside their industry. Other things like the ability to attract and retain talented employees, the quality of products and services and management, and the level of social responsibility were rated to come up with the list.
source:
AT&T News Desk