AT&T is now offering the LG G Watch R at just $99 through its online store
21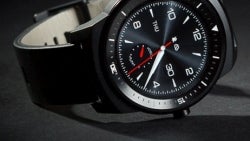 The G Watch R, the first LG smartwatch with a round form factor, is now available for just $99 over at the AT&T online store. That's $200 off the usual retail price, and a good price overall given the quality of this Android Wear smartwatch.
The LG G Watch R launched back in October 2014 at a debut price of $299, but since then, LG went ahead and launched yet another rounded smartwatch, the
LG G Watch Urbane
. Naturally, since a newer model is available, we expected the G Watch R to be offered through special promotions at discounted prices during this summer, but $99 is a better than deal than we've previously anticipated.
The LG G Watch R comes with a 1.3-inch P-OLED display with a resolution of 320 by 320 pixels, a Qualcomm Snapdragon 400 processor with 512MB of RAM, 4GB of integrated storage space, and a 410mAh battery. Although the Motorola Moto 360 was the first smartwatch with a round form factor, the G Watch R was the first smartwatch to come with a fully rounded display (the Moto 360 comes with a blank portion towards the bottom of the display).
As far as the design is concerned, this is one of the best-looking smartwatches currently available on the market, and it's also IP67 certified as dust and water resistant. For more details about the wrist piece, make sure to check our full
LG G Watch R review
.
The smartwatch is in the process of being updated to
Android Wear 5.1.1
, but the G Watch R will not get Wi-Fi capabilities with the update. LG says that it will issue a
special update in the third quarter
that will allow it to receive notifications over verified Wi-Fi network.
By heading to the source below, you can purchase the LG G Watch R for just $99 from AT&T's online store, with the option of having the device available for in-store pickup.
Recommended Stories