AT&T is advertising its $49 iPhone 3GS in order to combat Verizon's iPhone 4
13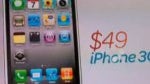 Just when you that the iPhone wars was ending now that Verizon has ownership of the latest model, out comes AT&T targeting a different segment of the market to minimize business for the competition.
Although both the AT&T and Verizon iPhone 4 handsets have their own unique capabilities, it seems that AT&T is
falling back on last year's model
to entice would be customers. Specifically, they're using the
$49 iPhone 3GS
as ammunition in their latest advertisement spot that quickly makes a point about its affordable pricing. If pricing is something that really hits the core with you, then there's no arguing the amount of money you'd save on picking the $49 8GB iPhone 3GS – which is $150 less than the 16GB iPhone 4 and $250 less than the 32GB one.
Right now, AT&T can undoubtedly use this strategy for the next few months until the next iteration of the iPhone is released – thus giving Verizon their very own inexpensive last-generation model.
source:
TiPB
via
BGR