AT&T files statement with the FCC supporting its acquisition of T-Mobile
15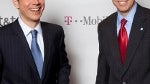 On Friday, AT&T filed a statement with the FCC detailing reasons why the agency should
allow
the acquisition of T-Mobile to proceed. Among the reasons cited by the carrier in support of the $39 billion deal is that it would
promote
economic
growth
and add jobs to the economy. The carrier said that by acquiring T-Mobile, competition and innovation would be promoted and the wireless market would remain "
vibrantly competitive
". According to the filing, 75% of Americans can choose from one of five mobile carriers. And because AT&T and T-Mobile USA have "uniquely complementary networks and spectrum positions", the combined company will have greater capacity than if the pre-buyout pipelines of both companies were combined.
AT&T also aimed some words directly at Sprint CEO Dan Hesse. The executive warned that the AT&T-T-Mobile combination would "
stifle innovation
". In response, AT&T said that the combined spectrum position of Sprint and Clearwire (majority owned by Sprint) is "far
stronger
" than AT&T's current position. According to AT&T, Clearwire has the best spectrum position in the business, a situation which would not change from the AT&T-T-Mobile deal. And that does not even include additional spectrum owned by Sprint.
The
entire
filing to the FCC can be viewed with confidential information redacted by clicking on the source link.
source:
AT&T/T-Mobile
via
BGR