AT&T fed up with you milking its data network, sends warning letters to covert tetherers
52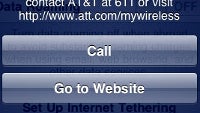 AT&T has started sending out warning messages to owners of jailbroken iPhones, which use the
MyWi
app for unauthorized sharing of their phones's mobile data connection. By unauthorized we mean you don't pay the $20 a month AT&T asks for tethering, and you don't sleep in peace with yourself and the world. High-usage subscribers are reportedly also receiving such messages, and we wouldn't be surprised if a bunch of folks with rooted Android handsets are in the crosshairs for off-the-grid tethering, too. Here is an excerpt from AT&T's letter:
"
Dear [Name of Account Holder],
We've noticed your service plan may need updating.
Many AT&T customers use their smartphones as a broadband connection for other devices, like laptops, netbooks or other smartphones– a practice commonly known as tethering. Tethering can be an efficient way for our customers to enjoy the benefits of AT&T's mobile broadband network and use more than one device to stay in touch with important people and information. To take advantage of this feature, we require that in addition to a data plan, you also have a tethering plan.
Our records show that you use this capability, but are not subscribed to our tethering plan.
If you would like to continue tethering, please log into your account online at www.wireless.att.com, or call us at 1-888-860-6789 Monday – Friday, 7 a.m. – 9 p.m. CST or Saturday, 8 a.m. – 7 p.m. CST, by March 27, 2011 to sign up for DataPro 4GB for Smartphone Tethering...
If we don't hear from you, we'll plan to automatically enroll you into DataPro 4GB after March 27, 2011. The new plan – whether you sign up on your own or we automatically enroll you – will replace your current smartphone data plan, including if you are on an unlimited data plan.
If you discontinue tethering, no changes to your current plan will be required.
"
So those of you with such letters have basically until next Sunday to sign up for the $45 a month DataPro 4GB plan and tether all they want, or be enrolled in it automatically, unless you stop the illegal tethering and/or excessive data usage.
Quite the move on AT&T's part, and if you wonder how they know who does what, it's probably a combination of abnormal data usage and Deep Packet Inspection (DPI) the carrier is using to determine where to send the warnings to. You can get around DPI by using a VPN, but the legality of this is debatable for individual users.
Have you received such a letter from AT&T, and what do you think about the whole "to tether or no to tether" conundrum the carrier is creating?
via
OSXDaily
Recommended Stories