AT&T and Verizon hammer Dish over spectrum interoperability proposal
19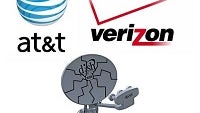 This is a rather interesting story about an upcoming auction for spectrum later this year. The FCC is set to place some rules for the auction over AWS-3 spectrum (2155-2175MHz).
Some of those rules will involve interoperability requirements with other frequency bands that have been sliced up by the industry and regulators. Right now, there is wide support from the mobile carriers to ensure downlink interoperability between AWS-1 and AWS-3 blocks of spectrum.
Dish Network, as we all know, holds licenses to large blocks of AWS-4 spectrum, for which it needs to
build out over a pre-determined period of time
or forfeit the licenses. Dish filed with the FCC on March 14th that the interoperability requirements should also apply to AWS-4 frequency bands.
Dish further noted that its interest in the AWS-3 auction would be "greatly enhanced" if interoperability of AWS-4 was assured to be part of that big block of frequencies from AWS-1 and AWS-3. That would presumably give Dish a better chance of success should it ever get around to building out what amounts to a
nationwide footprint of spectrum
it holds already.
Verizon fired a blast at Dish in a separate filing on March 19th stating that there was not enough time to evaluate Dish's proposal given the amount of effort that 3GPP (3rd Generation Partnership Project) standards body has already put into ensuring interoperability between AWS-1 and AWS-3 blocks. Verizon also stated that Dish's proposal was ill timed just a couple weeks before the FCC was going to publish its rules.
Dish then responded with a follow-up on March 20th saying that no such work was being done by 3GPP which on the face of it appears to be a bit of an arbitrary statement. Dish reasoned that whatever work has been done to ensure proper interoperability between AWS-1 and AWS-3 could become a natural extension to the AWS-4 spectrum it owns.
That is when AT&T stepped in, also on the 20th, and pretty much slammed Dish stating that 3GPP was the correct area to bring these proposals adding,
"an 11th hour ex parte on an item headed for a vote with no notice or comment is decidedly NOT the proper approach for managing these issues."
source:
FierceWireless