AT&T and T-Mobile to file the required documents for their merger at the FCC "around April 21"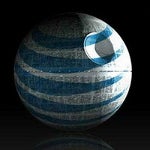 Almost a month has passed since it was officially announced
AT&T plans to buy T-Mobile
. Now we have more news on this potential deal, as it's reported the two US carriers are set to file the required documents at the FCC around April 21.
This buyout also needs the approval of the Justice Department, and it was a week ago when AT&T and T-Mobile provided the paperwork that's needed for this review, which is to rule out whether this proposed merger violates the United States antitrust law or not.
On the other hand, the goal of the feds' review is to judge if this potential buyout is in the interest of the public - a process that may take a year or even more to be completed.
If this deal goes through, it would mean that the two biggest carriers in the States - Verizon and the resulting carrier from the AT&T-T-Mo merger would have 80% of the wireless customers in the country, leaving
Sprint in a presumably disadvantageous position
.
For its part, AT&T claims that if it gets approved, this deal will benefit the average phone user in the States - a notion that
many of you disagreed with
.
source:
Reuters