AT&T's Qi-compatible Power Drum is a portable wireless charger and power bank
4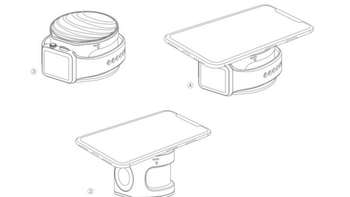 FCC
and
Wireless Power Consortium (WPC) approval
(via
Zatz Not Funny
) has just been received by an upcoming battery powered power bank and wireless charger that goes by the name of the AT&T Power Drum. On the wireless side, the device can charge an Apple iPhone (or any Qi-compatible handset) and an Apple Watch at the same time. Actually, the Power Drum will not work with the Series 4 Apple Watch, but will work with all other versions of the wearable. While the Qi charger will charge at 10W, it is limited to 7.5W for iPhone models. Apple Watch timepieces will charge at 5W.
As a power bank, the Power Drum carries a 3000mAh battery, well short of the 10000-20000mAh banks that are available these days. Still, in a pinch, you'll be glad to have that extra battery life. What you might not be pleased with is the microUSB port used to charge up the Power Drum. That means carrying around an extra cord with you.
According to one of the sources, it appears that AT&T will be selling the Power Drum for $99.99. There is no word yet on when this product will be officially launched.
Recommended Stories