ASUS teases 'miracle' device, 'Pad and Phone' come together: will we see a new PadFone?
18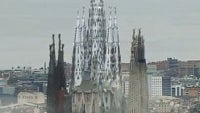 Asus is teasing something big for MWC: a 'metallic miracle' of a device made with 'ultimate craftsmanship' and judging by the strong video hint below, we could well see the new PadFone.
"Join us on February 25, when Pad and Phone come together,"
Asus posted on its official webpage.
The teaser video is captivating showing Barcelona's beautiful Sagrada Familia invaded by aliens. It doesn't make much sense, but Asus will release another teaser tomorrow, so stay tuned for that.
What would you like to see from Asus? And what would the ideal third-generation Padfone look like? Sound off in the comments below.
source:
Asus