ASUS Fonepad with upgraded processor and extra storage is announced
9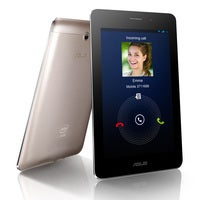 Earlier today in Taiwan, Asus announced an upgraded version of its Fonepad tablet, with a faster processor and increased on-board storage. The new model will ship with an Intel Atom Z2460 chip running at 1.6GHz (vs the Z2420 found in the
variant already on the market
) and 32 gigabytes of storage built-in. Nothing else has been modified, meaning that the beefier Asus Fonepad will still have a 7-inch 1280 by 800 pixel IPS display, 1GB of RAM, a 3MP main camera, and a microSD card for additional storage space.
In case you've forgotten what makes the Asus Fonepad stand out, that's the 3G cellular radio it is equipped with. It allows one to make phone calls as there's an earpiece on the tablet as well. The Fonepad can also stay connected to the internet even when there's no Wi-Fi around.
In Taiwan, the upgraded Asus Fonepad tablet will retail for the equivalent of $300, which is actually not much more expensive than what its lower-end brother costs. Currently, there is no word as to which other markets the new model will be launched in.