ARM unveils second-gen Mali-T600 GPUs, promises 50% boost in performance
20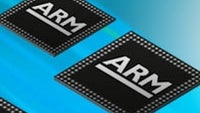 Soon after the
Samsung Galaxy S III
was announced, its
Exynos 4412 processor was given the benchmark treatment
, and to no surprise, the quad-core piece of silicon delivered some impressive results. The chip was not just fast, but it was actually faster than any mobile processor out there, at least theoretically. That level of performance was partially thanks to the Mali-400 graphics processing unit that Samsung's SoC utilizes. However, ARM is yet to show us what its mobile GPUs are capable of.
ARM announced a trio of second generation Mali-T600 GPUs on Monday.
First up are
the

Mali-T624 and Mali-T628, which offer 4 and 8 cores respectively and are meant to be used in smartphones and smart TVs. The Mali-T678 is also scalable up to 8 cores, but it is tailored for tablet use. All three units promise to deliver a 50% performance increase over Mali-T600 GPUs of the previous generation, all the while retaining their physical footprint and power efficiency.
But there's more tricks that the new pieces of silicon are capable of performing. ARM has implemented a new graphics compression codec within its newest Mali-T600 GPUs called Adaptive Scalable Texture Compression (ASTC for short). In a nutshell, ASTC supports a wide range of color standards and compression bit-rates. With its help, developers will be able to
"use texture compression throughout the application, and to choose the optimal format and bit rate for each use case."
The compression standard should not only make a developer's life easier, but should also help lessen the processing power an app needs in order to run, thus extending the device's battery life. It's pretty nerdy stuff, we know, but those of you who are into coding should get the idea.
So when we might see these GPUs inside a commercial product? ARM does not clarify on that, but our guess is that it will take some time until the second-gen Mali-T600 lineup gets to show off its processing prowess. What is pretty certain, however, is that Samsung could be quite interested in ARM's new GPUs.
ARM Launches Second Generation of MALI-T600 Graphics Processors Driving Improved User Experience for Tablets, Smartphones and Smart-TVs




New technology extends ARM leadership in GPU compute and graphics processing




LOS ANGELES, USA, SIGGRAPH 2012 – 6 AUGUST 2012 - ARM today announced the second generation of the ARM® Mali™-T600 Series graphics processing units (GPUs), providing a dramatically improved user experience for tablets, smartphones and smart-TVs. Each of the products features a 50% performance increase* and are the first to include Adaptive Scalable Texture Compression (ASTC), a texture compression technique that originated from ARM. ASTC significantly optimizes GPU performance and increases battery life in devices, enabling an always-on, always-connected experience, adopted by the Khronos™ Group, an important industry consortium that focuses on open standards.

Based on the Mali Midgard architecture, the second generation of the Mali-T600 Series comprises three GPUs - the Mali-T624, Mali-T628 and Mali-T678. Each product has been tuned to provide optimal performance and energy-efficiency for different end devices. The Mali-T624 and Mali-T628 products provide market leading graphics and GPU compute to smartphones and smart-TVs, while the Mali-T678 has been optimized to address the demands of the rapidly growing tablet market.

ARM continues to invest in GPU compute capabilities by integrating the leadership that ARM has in the CPU space, with ARM Cortex™ processors, and applying it to the Mali GPU architecture. GPU compute enables greater control when balancing tasks between the CPU and GPU, allowing performance of the right task by the most efficient architecture. This enables improved energy-efficiency for current and new math intensive activities, such as:

Computational photography: computational methods of enhancing or extending digital photography

Multi perspective views – the ability to have multiple views from different positions

Real-time photo editing on mobile devices – photo editing at your fingertips on your smartphone, tablet, etc.

GPU compute also extends the range of use cases possible on mass-market mobile devices, allowing features like photo editing and video stabilization to be available in a wider range of consumer products.

"People expect higher standards of visual computing on their smartphones, tablets and smart-TVs with seamless access to their digital world and personal content," said Pete Hutton, General Manager, Media Processing Division, ARM. "GPU compute enables this as it increases the range of functions mobile devices can perform within the available battery life. ARM continues to focus on system-wide optimization by integrating market leading CPU and GPU technologies to drive both high performance and energy-efficiency."

"The newly announced Mali-T600 series is essential for graphic performance improvement, and also for the future strategy of GPU Computing,"said Mr. Mitsugu Naito, Executive Vice President, IP and Technology Development Unit, Fujitsu Semiconductor Limited. "Through our Subscription License with ARM for ARM IP products, we are able to share our product roadmap and deliver ARM based platform SoC promptly to our customers. The new Mali-T600 series will be added to our SoC development platform portfolio and we plan to adopt the Mali-T600 series into our products as a key IP solution to enable improved GPU computing."

"Increasingly, consumers are demanding similar performance across their connected devices to access their personal information and content. This improved user experience is demanded across a range of devices, including smartphones, tablets and smart-TVs," said Andrew Chang, Vice President, MediaTek. "MediaTek are working closely with ARM to ensure that we provide high-performance, energy-efficient solutions that address these demands. The second generation the ARM Mali-T600 GPU will allow us to address these markets through technology leadership in graphics and GPU compute."

"Innovation happening in smart connected devices is not only in the computing area but also in the graphic area where smartphone and tablet manufacturers are seeking differentiation for their products. This relies on leading edge and innovative technologies from SOC vendors like Nufront," said Rock Yang, VP Marketing, Nufront. "Nufront is focusing on mobile computing and communication SoC design, leveraging advanced technologies from ARM. Using advanced technologies, such as Adaptive Scalable Texture Compression featured in the second generation of Mali-T600 GPUs, we can address the demands of the market and provide significant benefits to device manufacturers."

"The performance and battery life requirements for smartphones, tablets, smart-TVs and other smart, connected devices are such that whilst a single energy-efficient architecture is suitable, GPU variants to address these markets are highly desirable," said Mr. Chen Feng, Chief Marketing Officer, Rockchip. "We are pleased to extend our relationship with ARM and look forward to the advanced Rockchip solutions that will be enabled by the range of second generation Mali-T600 GPUs from ARM."

"An advanced visual computing experience is an expectation that most consumers have when they purchase a new smartphone, tablet or smart-TV," said Taehoon Kim, Vice President of System LSI marketing team, Samsung Electronics' Device Solutions. "It is therefore important that Samsung works with partners, such as ARM, to achieve technology leadership in areas that include advanced graphics and GPU compute. The next generation of the ARM Mali-T600 series GPU is an important introduction, and will help Samsung Exynos processor to address consumer demands."

*Each of the second generation Mali-T600 Series GPUs features a 50% performance increase compared to first generation Mali-T600 products (based on industry standard benchmarks), on the same silicon process. This 50% increase has been facilitated by a combination of frequency improvements, such as optimizing the register transfer level (RTL) for increased performance, and micro-architectural improvements so that graphics are executed more efficiently. The design of each new product addresses different performance points:



ARM Mali-T624/Mali-T628



The Mali-T624 GPU offers scalability from one to four cores, whilst the Mali-T628 from one to eight cores provides up to twice the graphics and GPU compute performance of the Mali-T624, extending the graphics potential for smartphones and smart-TVs. These products provide breathtaking graphical displays for advanced consumer applications, such as 3D graphics, visual computing and real time photo editing for smartphones and smart-TVs.



ARM Mali-T678



The ARM Mali-T678 GPU offers the highest GPU compute performance available in the Mali-T600 Series of products, delivering a four-fold increase when compared with the Mali-T624 GPU through features such as increased ALU support. This brings a wide range of performance points to address the vibrant tablet market. The Mali-T678 offers energy-efficient high-end visual computing applications, such as computational photography, multi perspective views and augmented reality.



What is ASTC?



ASTC supports a very wide range of pixel formats and bit rates, and enables significantly higher quality than most other formats currently in use. This allows the designer to use texture compression throughout the application, and to choose the optimal format and bit rate for each use case. This highly efficient texture compression standard reduces the already market-leading Mali GPU memory bandwidth and memory footprint even further, while extending mobile battery life.

All products are designed to support the following APIs; OpenGL® ES 1.1, OpenGL ES 2.0, OpenGL ES 3.0, DirectX 11 FL 9_3, DirectX® 11, OpenCL™ 1.1 Full Profile and Google Renderscript compute.
Recommended Stories