ABI Research: Surface Tablets to have "little impact" this year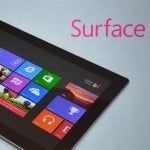 Despite the excitement about the new Windows flavored tablets, ABI Research
doesn't expect the device to make a huge impact on the tablet market
this year and in fact, sees the Surface Tablet accounting for only
1.3
% of all tablet shipped in 2012. Some of that is due to the late start for the tablet, with availability of the tablet not starting until October. But there is more than just timing involved here.
powered by Windows 8
and
Windows RT
for those who want an ARM based processor. Each will find different buyers and will have different price points. The Windows 8 version is expected to cost nearly $900 with the Windows RT model priced at around $600. Obviously,
ARM based tablets dominate now
, with a 98% marketshare in 2011 and ABI expects more of the same this year. ABI believes that this fragmentation could put some sort of damper on Surface Tablet sales.
If ABI Research is correct, 2012 will not be the year to expect Surface Tablets to challenge the Apple iPad and Android flavored tablets. Whether or not 2013 will show exponential growth remains to be seen.
source:
ABIResearch