ABI Research: First quarter Android sales dominate, Windows Phone continues growth, BlackBerry evaporates
99+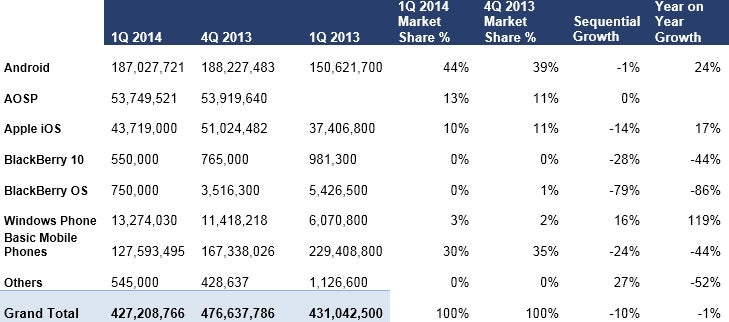 In total, nearly 430 million mobile devices shipped in the first quarter of 2014, down about 1% from the first quarter a year ago. Android, iOS, and Windows Phone devices each saw growth, while basic phone shipments shrank, and BlackBerry devices, both OS 10 and legacy, no longer register on the scale.
Android smartphones saw about a 24% year-on-year growth, shipping a little over 187 million units. Devices that use the Android Open Source Project added 53 million on top of that, showing again that Android remains the big boy on the block.
iOS shipments in the first quarter numbers 43.7 million devices, representing a 17% growth from the same quarter last year. Windows Phone saw 119% growth year-on-year, shipping over 13 million devices. The platform was distinct as it carried gains following the holiday quarter of 2013 whereas all other mobile OS-es contracted a bit. Despite the growth in sales, overall sales activity places Windows Phone in a very distant third behind Android and iOS.
The real story unfortunately is BlackBerry. Sales of OS 10 and BlackBerry OS (OS 7), have fallen off a cliff, with year-on-year sales activity declining 44% and 86% respectively. In the first quarter of 2013, BlackBerry shipped 981,000 OS 10 devices. In the fourth quarter, that number dipped to 765,000. For the first quarter this year, shipments fell again to 550,000.
Sales of BlackBerry legacy devices, such as the BlackBerry 9900 series, evaporated, falling from more than 5 million devices shipped in the first quarter of 2013, 3.5 million in the fourth quarter, to only 750,000 in the first quarter this year.
BlackBerry's sales, according to figures released by ABI research today, now arguably put the platform in the "other" category since sales shares are not even registering 1%.
Basic feature phones still have significant sales globally, but they too, are declining, 44% year-on-year. That trend will continue as smart devices get even more affordable.
sources:
Business Wire
via
WPCentral