A5 CPU on Apple iPhone 4S clocked at 800MHz while dual-core processor makes it 73% faster than iPhone 4
99+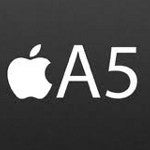 A Geekbench test on the custom made A5 CPU inside the Apple iPhone 4S shows
that it is running at 800MHz
, the same speed as on the A4. But the dual-core processor allows the new phone to perform 73% faster than the prior model. The test gave the Apple iPhone 4S a score of 623 vs. a score of 360 for the Apple iPhone 4. The Apple iPad 2,
with a 1GHz A5 CPU
, outscored both of the handsets with a 751 tally.
The results of the GPU test show that the newer iteration of the Apple iPhone is 7 times faster than the older model when it comes to running graphics. The Apple iPhone 4S scored 73.1 vs. 11.2 for the Apple iPhone 4. Another GPU test resulted in a score of 122.7 for the former against 15.3 for the latter. While the Apple iPhone 4S trailed the GPU test score of the Apple iPad 2, it beat out results from other handsets that come with higher clocked CPU's like the
Samsung Galaxy S II
, the
Samsung Infuse 4G
and the
Motorola DROID BIONIC
.
While Apple lowered the clock speed of the A5 found in the iPhone 4S as opposed to the 1GHz speed on the iPad 2, the result was a small drop in performance versus a big jump in the life of the battery.
source:
AnandTech
via
AppleInsider

Results from the GPU (L) and CPU (R) tests