A word from Britain says that Dell Venue Pro is delayed until January 2011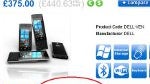 It seems Windows Phone 7 is not off to a smooth start at all. First, there were problems with the HTC HD7 that prompted
talks of backorder
of the handset. Then, two screen issues with the HTC 7 Trophy emerged and there is a persistent rumour that the
HTC 7 Trophy would be recalled
. Furthermore, in the last few days there was a lot of talk that hardware parts shortage is hampering sales of all Windows Phone 7 handsets. And now, we understood that the
Dell Venue Pro
, probably the most anticipated WP7 handset, except for the Samsung Focus, is already delayed in Britain and something similar may happen in other places as well.
A news emerged that Clove UK is postponing shipment of the phone in Britain until January 2011. All these people who have already ordered this device are notified via e-mails for the delay. No official information is available and it's yet unknown if customers in the US will experience similar problems on the long run, though it's reported that the already shipped Dell Venue Pro handsets have
Wi-Fi issues
.
It's quite sad that the new Microsoft mobile OS is experiencing so many problems at launch. We hope these issues will be cleared in the near future, so that we will be able to see these much-anticipated handsets fulfilling their full potential.
source:
WP Central