A new star rising: Meizu's best phones bring great design and impressive prices
21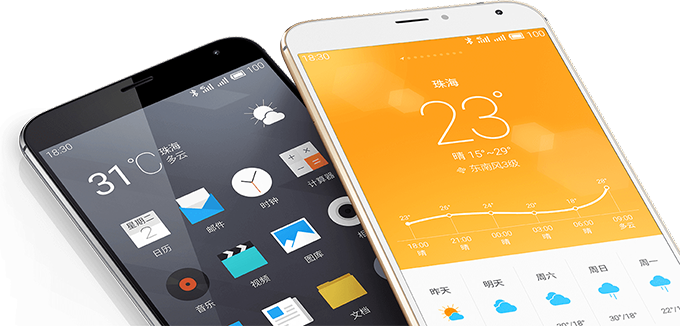 A new wave of phone companies is coming: they are from China, and they offer their phones at much lower prices than Samsung and Apple, often with no huge compromises. You've probably already heard about the most prominent one: Xiaomi, but it's not the only one.
Meizu - a new star rising
Today, we want to focus your attention on Meizu, a brand that has pushed its design efforts and is making genuinely well-crafted and premium products. The latest flagship, the 5.5-inch Meizu MX5, has just gone on sale in China for the equivalent of just $290 off contract (less than half the price of the Apple iPhone 6 Plus), and it boasts a similarly well-designed all-metal body with a fast fingerprint scanner and fast and responsive interface.




It's not the only one, though: Meizu's current lineup offers phones at various price points, but they all share one thing in common: a well thought out design, and an incredible value for the money. Let's take a look at what the fuss is all about.



Meizu MX5
Price: $290 (元1,799)
The new MX5 is a 5.5-inch 1080p phone that runs on Android 5.0 Lollipop with Meizu's custom FlyMe user interface on top, and it features a sturdy, precisely machined slim metal body. It's not just about the good looks, though: under the hood, there is the new MediaTek Helio X10 system chip, and on the back, a 20-megapixel camera is responsible for the photographic part of the handset.
Meizu MX4 Pro
Price: $320 (元1,999)
The Meizu MX4 Pro remains the most expensive handset of the company to day with a starting price of some $320. With a 5.5-inch form factor, a metal frame, and a fingerprint scanner, it carries a lot of similarities to the newer MX5, but one area where it does stand out is support for high fidelity audio playback thanks to more advanced audio chips. The MX4 Pro also stands out with its higher, Quad HD resolution (the MX5 comes with a Full HD display). The phone is powered by the Exynos 5430 system chip and features 4G LTE connectivity.
Meizu MX4
Price: $240 (元1,499)
Last year's Meizu flagship is still an astoundingly well-made device that runs smoothly and features a very alluring price of just $240. Back in the day, it brought quite the breakthrough with its amazingly slim bezel that made it much more comfortable to handle in one hand than other devices with a similarly big, 5.4-inch display. With a fairly good 20-megapixel camera and the simplistic FlyMe skin, it's still a good offer.
Meizu M2 Note (Blue Charm Note 2)
Price: $130 (元799)
The Meizu Blue Charm Note 2 (aka Meizu M2 Note) is now official. It brings Android 5.0 Lollipop, a brand new octa-core MT6753 64-bit-compatible chip, a slightly refreshed visual style, and an even lower price tag than the original m1 note.
Quite interestingly, rather than having that typical for Meizu round capacitive button below the screen, the M2 Note features a physical key. Contrary to expectations, it does not have a fingerprint scanner built-in, but can still differentiate between a tap and a click: clicking would bring you back to the main screen, while a tap brings you back a step.
Here is a quick run-down of the main specs of the new Meizu M2 Note:
Platform: Android 5 Lollipop with Flyme skin
Dimensions: 150.9 x 75.2 x 8.7mm, weight of 149g
Screen: 5.5-inch Sharp IGZO IPS LCD display with a resolution of 1080 x 1920 pixels
System chip: MediaTek MT6753 with 8 Cortex A53 cores running at up to 1.3GHz
RAM: 2GB LPDD3 800MHz
Main camera: 13-megapixel with 5-element f/2.2 lens
Front cam: 5-megapixel with f/2.0 lens
Battery: 3100mAh
Meizu M1 Note (Blue Charm Note 2)
Price: $160 (元999)
The original Meizu M1 Note might be a bit more expensive than the new M2 Note, but it features a bit more powerful specs: the M2 Note features the Mali-T720 MP3 edition running at up to 450MHz (an 8-cluster GPU by ARM), while the original M1 Note features the Mali-T760, a 16-cluster graphics chip with a maximum clock speed of 700MHz and much higher performance capabilities. The CPU on the M2 Note is also clocked at up to 1.3GHz, while the original M1 Note could reach 1.7GHz. Another subtle change is in the ISP that is also cut to support only 3Gbps of bandwidth, compared with 4Gbps ISP in the original.
Meizu Blue Charm (Meizu M1)
Price: $120 (元750)
The Meizu Blue Charm is Meizu's smaller-screen device: with a 5-inch display with a resolution of 768 x 1280 pixels, the MediaTek MT6732 system chip, 1GB of RAM, and a 13-megapixel camera, it's a decent combination of specs. Where it stands out is the typically great Meizu design and the fairly smooth FlyMe user interface.