A look at Nokia's exclusive "The Dark Knight Rises" app
4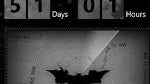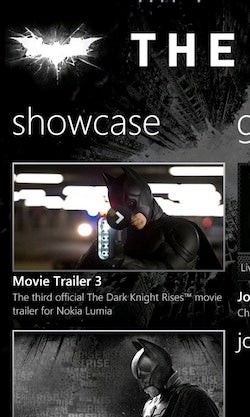 View trailers to The Dark Knight Rises
Nokia's exclusive
"The Dark Knight Rises" app
shows off movie trailers for the next installment in the Dark Knight series, and more. The Metro UI, colored in black and white, gives off a brooding air which is perfect for the film. The first page of the app shows media files, trailers and wallpapers. Swipe over to the next page to lay the Gotham City game which is a Foursquare-esque game which requires you to check into locations near you to protect them from the enemy. You can register for the game as either Batman or Bane. When you check into a location, you earn points that helps you defend a location against your opponent. And if you're curious to know how you stand in the game, there is a leaderboard that gives the latest scores of other players around the globe.
Besides helping you defend locations, the points you accumulate can also be
used for rewards like ringtones
. App creator Justin Oppelaar said it was fun to be able to create a game for the app outside of the movie content. And as far as the film goes, the app has a countdown timer that is working its way down to the launch of the movie on July 20th. There is also a movie theater location function that will allow you to find the closest theater to your current location.
The app also reveals the usual movie-type info such as the synopsis, the cast and links to other movie sites. That is all in the "Info" section. In the "FanBuzz" area, users of the app will be able to send and read live tweets so that you can read reviews of the film in real time.
Holy Windows Phone Batman
, is this another reason to select a Nokia Lumia phone?
source:
Nokia
via
WMPoweruser