A future Moto Mod could revive the 3.5mm jack.. or save your life
5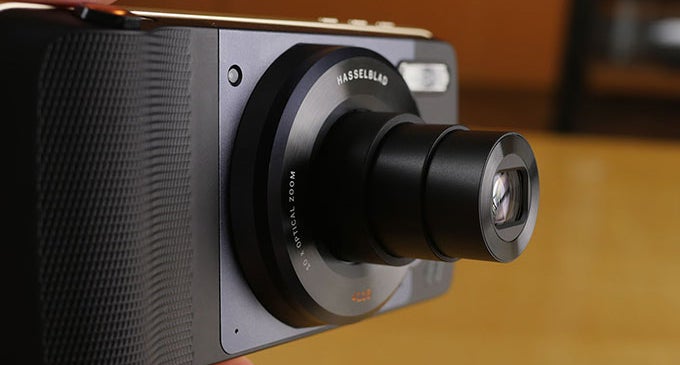 The Hasselblad True Zoom camera is one of several Moto Mods currently available
Motorola has thrust the idea of modular smartphones into the mainstream with the Moto Z series. It's not like we haven't seen handsets with swappable hardware components before --
LG's flagship G5
indulged us earlier this year, after all. But Motorola has added a much-needed sense of Cool Factor to proceedings, and
where it remains uncertain whether LG will continue
this emerging practise, Motorola seems more anxious to prove that Moto Mods aren't just a fad or gimmick. At a recent hackathon event, a number of interesting Moto Mod concepts were showcased, and offered a glimpse at the broad potential of these add-ons.
The majority of Moto Mods rolled out so far have sought to make the Moto Z series more entertaining. From the
Hasselblad True Zoom camera
to the
JBL SoundBoost speakers
, it's been very much about consumption and enjoyment. But the hacking event has shed light on how Moto Mods may also be utilized for the greater good -- to test people's skin health, insulin levels and other aspects of overall wellbeing.
Over the past few years, the leading tech firms have made a concerted push to integrate health-centric elements into our digital diets. But apps and fitness bands can only do so much, and Moto Mods could help to take things to the next level.
Moto Mods could eventually become life-saving necessities
One Moto Mod concept codenamed 'Bella' demonstrated how readings of human skin could be made thanks to its myriad sensors. Checking for skin elasticity, UV levels and air quality, the data can subsequently be used to offer guidance on how one might better take care of their skin.




Another concept demoed its insulin-level-monitoring prowess, which could save many lives amid the very real diabetes epidemic we face. With a further mod apparently able to test for water pollution, it's clear that Moto Mods could do more than pander to the Netflix-loving selfie generation.




The hackathon saw judges pick three stand-out concepts alongside Bella; the 'Sidepad' gaming controls mod that allows the display to be kept clear for viewing, and 'Advanced Audio', which adds HD audio ports (and a 3.5mm jack, perchance?) to the connected device. There will be another such hackathon next month, with eventual winners set to be handed cash prizes and dev kits to turn their ideas into real Moto Mods.