A "few dozen" American Airlines flights get grounded as pilots' iPads go dark
39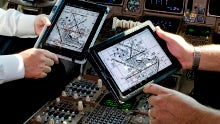 "
Some flights are experiencing an issue with a software application on pilot iPads.
" We bet you wouldn't have imagined American Airlines writing this on Twitter just a few years ago, but that's where we are now.
A couple of dozen flights were grounded on account of... the pilot's iPad, which
AA is now using instead of paper maps
. The airline gave all pilots and copilots 8,000 iPads two years ago, nixing 35 pounds of paper flight documents, but uploading every flight plan on the tablets themselves.
Many iPads, or, rather, the flight software that carries the maps, inexplicably went dark, both for pilots and copilots, and the crew had to return to the gates, hook up to Wi-fi, and retrieve the maps, which caused grounding and delay in a "few dozen" flights. Yesterday an investment company bot flash-crashed Twitter's stock, today replacing physical maps with virtual ones is causing flight delays - these are the digital times we live in, so we'd have to, ahem, deal with it.