A 7.85-inch iPad would be 40% larger than existing 7 inchers
22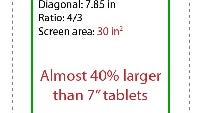 The rumor of Apple preparing a miniature version of the iPad has persisted in the last couple of weeks, and while most sources agree that the upcoming tablet will feature a 7.85-inch screen, we and the majority of publications have sometimes compared it to other 7-inch tablets. There's a huge difference between a 7.85-inch display and a 7-inch one, though.
How much, you might wonder. Truth is that a 7.85-inch iPad mini would be nearly 40% larger than 7-inch tablets.
It's all simple maths. The screen area of a 7.85-inch tablet comes at around 30 square inches, which is nearly 40% more than the 22 square inches you get on 7-inch slates.
Check out the picture below, showing how different aspect ratios and diagonal screen sizes measure in terms of pure screen area available. So would it be appropriate to call the 7.85-inch mini iPad one of the 7-inch tablets? Not at all, but comparing it with seven inchers is, of course, inevitable.
source:
Trojan Kitten
via
Daring Fireball