A 360-degree view of the BlackBerry Storm 2 appears on Verizon´s official website
This article contains unofficial information.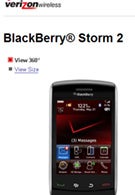 When is the BlackBerry Storm 2 due at Verizon we wonder. Right now, this is a million-dollar, multiple choice question. According to one of our sources, this is about to happen tomorrow, other people claim we won´t see the handset before the beginning of November. The latest information we´ve got is really intriguing and makes us hope the rumor about the upcoming market launch of the device on 21 October speaks true.
If you feel on the verge of a nervous breakdown and your patience is about to end, well, we´ve got good news. A 360-degree view of the BlackBerry Storm 2 9550 is now available at the carrier´s website. Well, as you might have guessed, Verizon has no made an official announcement yet, but can this be a sign that we will see RIM´s second device equipped with touch-sensitive screen take its place in the product catalogue of Big Red soon? We figure you must be just as fed up with all the speculations as we are, so we hope things clear up soon. Who knows, we might find out as soon as tomorrow.