9 subtle design differences between the Xperia Z5 and the Xperia Z3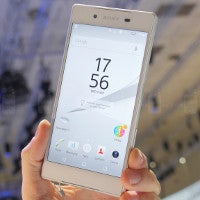 As Sony fans know only too well, the legendary Japanese company's policy on flagship upgrades dictates a refresh every six months or so. In the case of the Sony Xperia Z3+, however, the device has barely been on the market for two months and there's already a newer, meaner Xperia flagship — the Z5.
In many ways, this hurt the significance of the Xperia Z3+, which most people have never seen, nor will buy given the more tempting Xperia Z5. This is why, in a way, the true predecessor to the Z5 is actually the Z3, technically incorrect as this may be. And sure, the Z3+ served as a testing board for some design changes — ones that we also find in the Z5 — but we thought comparing these subtle differences with the Xperia Z3 makes more sense.
Some of you will already know that we had a favorable first impression as far as the new Xperia Z5 is concerned, and the slightly updated design of the device had a lot to do with that — especially that frosted glass plate on the back. But we noticed a number of other tweaks, and we thought it'd be helpful to have them outlined in one place for your future reference. Here they are: