9 percent of Brits who got an iPad for Christmas have not even used it yet
15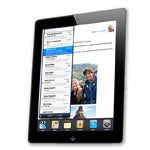 Given that the
iPad
is among the most common things to see on a Christmas wish list, it is hard to believe that some people who got one for the holidays have yet to use it. However, that is exactly what the case is in the U.K. according to a recent study conducted by
MyVoucherCodes
.
If the study is to be believed, a whopping 9 percent of the people in the U.K. who got an iPad this holiday season have not used it yet because they
"haven't gotten round to it"
. Another popular response was because
"it isn't fully charged"
, as ridiculous as it may sound.
Interestingly, the fraction of people who still have Christmas gifts that they have not used yet stands at 48 percent. And 22 percent of these people say that it was the Amazon Kindle that they got as a gift. No, not the
Kindle Fire
tablet – the device in question is the Kindle e-book reader that Amazon is selling for $79. Another 14 percent of those respondents say that they haven't touched their new MP3 player yet.
Has anyone of you received a gadget for Christmas that is still collecting dust in some drawer? Feel free to let us know by dropping a comment.