9 out of 10 iPhone buyers choosing the 4S
99+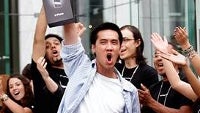 Apple reported not only good, it delivered a
historic quarter
propelled by sales of its iPhone. The company did mention that most of the iPhone sales were of the latest iPhone 4S, but now an interesting conclusion surfaced -
9 out of 10 buyers
are picking the iPhone 4S, according to a study by Consumer Intelligence Research Partners (CIRP).
Customers preference for the latest and
"most amazing"
iPhone yet is not surprising, it is interesting though to know that an overwhelming 90% pick the 4S even when the iPhone 4 and 3GS are available for much lower prices. This should serve well to explain whether Apple really needs to bring a lower-cost iPhone to the market, as many analysts have pointed out.
To be perfectly exact, CIRP found the iPhone 4S to make up 89% of iPhone sales after its launch, while the iPhone 4 and 3GS shares stood at 7% and 4%, respectively.
Clearly, the iPhone 4S sold very well
The researchers further broke down iPhone 4S sales only:
21% were iPhone 4S 64GB,
34% were iPhone 4S 32GB,
45% were iPhone 4S 16GB.
"Clearly, the iPhone 4S sold very well,"
CIRP co-founder Mike Levin said for AllThingsD.
"An amazing 19 percent of all iPhone buyers upgraded from the iPhone 4, a phone barely a year old at the time of the launch. Forty-two percent of iPhone buyers broke existing carrier contracts to get the new iPhone 4S. And 19 percent of these iPhone 4S buyers sold their old iPhone in the secondary market. Early upgrades, broken contracts, and selling used phones — all allow buyers to purchase the new iPhone 4S, when conventional wisdom suggests that these users would follow the two-year contract cycle, or at least purchase the cheaper models."
source:
AllThingsD