84% of IT business buyers to purchase an iPad over the next 90 days
16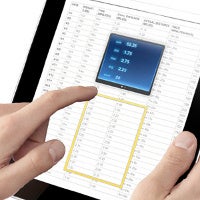 Demand for the iPad has been huge and you don't need the studies to see it - shipping times for the third-gen iPad have slipped to a couple of weeks, and it's only been a few days since Apple unveiled the tablet. Apple has also confirmed the obvious: iPad demand is "off the charts," Cupertino said for USA Today.
But while this says a lot about general demand, what about the new iPad's success with corporate clients? A new ChangeWave Research study of "1,604 business IT buyers" revealed that 22% of the companies have decided to streamline productivity by buying tablets.
84% of those companies are planning on getting the iPad
within the next 90 days. Samsung-made Android tablets and the Kindle Fire only managed to get marginal piece of the pie with 8% and 6% respectively.
"Among the competitors, Samsung (8%) is down 2-pts and continues to remain a distant second in planned tablet buying… Other tablet manufacturers showing a decline in corporate tablet share since the previous survey include H-P (4%; down 1-pt), Asus (3%; down 1-pt), Dell (3%; down 2-pts), and RIM/Blackberry (3%; down 2-pts)," the study explains.
Corporate interest in the iPad is at record levels as even after the iPad 2 launch it was "only" around 80%, and now it's even higher. A similar analysis by The Business Journal saw iPad usage growing four-fold among small business last year.