8.2-inch slim Motorola Xoom 2 Media Edition surfaces, compared with its bigger Xoom 2 sibling
6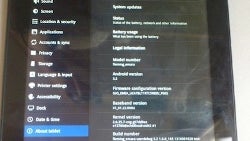 The
Motorola Xoom 2 has leaked
from all kinds of sources over the weekend and while the 10.1-inch tablet seems exciting, some would definitely prefer a smaller (and lighter) edition. Motorola's got you covered as well with the
Motorola Xoom 2 Media Edition, also known as Motorola Fleming
, which is expected to measure 8.2-inches on the diagonal and boasts an HD IPS screen with an anti-glare surface, while weighing just 0.95 pounds. The tablet looks surprisingly similar to an
earlier leak
, boasting the same diamond-shaped body.
The interesting thing about the Xoom 2 Media Edition is the fact that it's built to last with a magnesium-aluminum chassis and a Gorilla Glass splash-resistant display. The tablet also comes with an IR blaster, meaning that it would probably play well as a remote to other devices. Its media value is boosted by a built-in set of speakers with a subwoofer. There's plenty of unknowns about the devices, but the picture on the left is the first mystery for you to solve - is that a
Motorola Droid RAZR
that's photographing the Xoom 2 Media Edition?
When it comes to the specs, though, things get even more exciting as both tablets are around 0.35" (9mm), which is
a hair thinner than an iPhone 4
. Both second-generation Xoom tablets
come with LTE on board
and Android 3.2 Honeycomb. Actually, the larger Xoom 2 also seems to have the same Fleming codename and both share a 5-megapixel rear cameras capable of capturing 720p video. It seems that the tablets aren't exactly ready to launch, as the tester said that both were
"buggy as all hell, with frequent reboots and crashes,"
but Motorola still has the time to polish them. And it would be interesting to see how that newfound Google partnership will affect updating to Android Ice Cream Sandwich. Check out the pictures below and chime in with your thoughts about the second wave of the Xoom tablets in the comments section.