Motorola XOOM 2 to be iPad-2-thin, first with Adobe Flash 11 and Netflix HD streaming onboard
34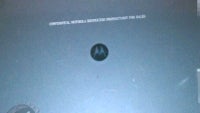 More details have been spilled about the
upcoming second edition
of the Google's tablet OS poster child, the
Motorola XOOM
. Dubbed simply the XOOM 2, the tablet is supposed to have a 9mm thick chassis. While not the thinnest out there, this slim built is just a hair north of the anorexic iPad 2, so no complaints in the looks department.
What will make it interesting, though, are not the dual-core 1.2GHz processor, 1GB of desktop-grade RAM and camera capable of 1080p video recording - these are all expected on a second-gen Android tablet by now. The keyboard case and stylus pen also won't make everyone go bananas about the release, although they are nice options.
The things that caught our attention is that the Motorola XOOM 2 is expected to be the first tablet with the
upcoming Adobe Flash 11
, which is supposed to be up to 1000 times faster than the current 10.x version and enable 3D. Flash 11 is coming next month, so the XOOM 2 should land in time for the holiday lineup.