8 likely LG G3 features
17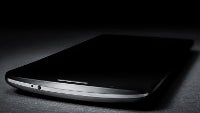 With Samsung, HTC and Sony having had their turn, we're getting awfully close to seeing what LG has in store for this year's flagship derby. The successor to the
G2
, the
G3
is set for release in less than a week's time, and it sure has lit the web on fire this past month, what will all the related leaks.
So, the G3 has many of you excited, and that's not surprising, considering
what we (think) we know so far
. Obviously, nothing is set in stone just yet, though we do happen to have a few pointers for you right before game time.
Like we have done before
, we'll again list those for you in a descending order -- from what we feel will most likely make it into the G3, down to the stuff we're less inclined to believe. Again, these are nothing more than guesses, but we'd say they're educated at that.
Alright, so what do we have in store today? Tech die-hards among you will be aware of most of the stuff here -- like the very real possibility of a QHD screen, or a new UI, or perhaps even a fingerprint scanner -- but the majority isn't as intimate with details surrounding the next LG flagship. So go right ahead for the full list, and let's see how many of these we'll get right.