77 cents of every dollar of profit in the mobile industry went into Apple's vault during Q2
46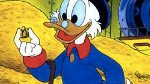 "Until Samsung starts generating more profits than Apple, we would not be overly concerned with who has the unit share lead. Remember, HP and Dell still sell a lot more PCs than Apple sells Macs, but does it matter?"-Tavis McCourt, Raymond James analyst

Raymond James analyst Tavis McCourt
has published a new study that shows that Apple received
a whopping 77% of the profits in the mobile industry
during the second quarter. To prove how much higher the profit margins are for the Cupertino based firm than the rest of the industry, those profits were accomplished with only 43% of Q2 industry revenue.
In terms of units, Apple
shipped just 6% of smartphones and tablets in the second quarter
and yet wound up with the lion's share of revenue and profits. And this comes during a period of time when Apple iPhone sales are usually not running at peak performance with the next iteration of the device on the way. And McCourt points out that while Samsung sold twice as many smartphones as Apple did in the second period, it really doesn't matter because Apple took such a huge share of profits.
As McCourt noted, HP and Dell sell a lot more PCs than Apple sells Macs, but the profits are what counts. So the analyst says the same thing applies with Samsung and Apple's mobile devices. "
Ultimately, profits are the feedstock of innovation

;" says McCourt, "

and innovation drives profits

."
source:
AllThingsD
Recommended Stories