74% of businesses now allow BYOD for employees
23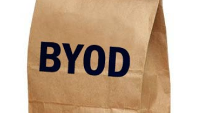 A recent survey of businesses has found that 74% are allowing, or plan on allowing, employees to use their own smartphone or tablet at work. The survey also found that BYOD is more prevalent with smaller organizations than larger ones. The industries most likely to support it are not surprisingly IT, technology and education. Government offices are least likely to allow BYOD. And there is still a great divide over where we find the practice applied. U.S. corporations are more likely to allow it than corporations headquartered in Europe.
If BYOD is such a great idea, why won't every business allow it? According to the survey, security, or lack of it precisely, is the main reason why some businesses refuse to consider it. Perhaps that it is the reason why 71% of smaller outfits allow employees to use their personal device at work. Larger, unwieldy organizations are more apt to have problems with security. The survey shows just 54% of those firms allowing BYOD.
With the rise of wearables, smartwatches and other devices of that ilk could also be considered for BYOD. The survey found that 29% of those businesses responding said that they are all for their employees bringing their own wearable to work. And while 11% will not allow employees to use their personal wearable devices in the office, a whopping 60% of them are still undecided.
Thanks for the tip!
source:
TechProResearch