70-second Apple Watch boot procedure captured on camera
72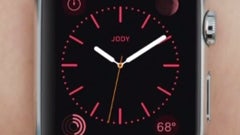 The Apple Watch isn't set to launch until this Friday, but the smartwatch sure managed to draw a lot of attention since pre-orders launched on April 10th. In a video that surfaced yesterday on YouTube, a demo Apple Watch unit is put through its start-up/boot sequence. It took 70 seconds for the device to boot up and show the watch face, which is more than double the time that the
iPhone 6
needs to get past the Apple logo.
Obviously, there's a huge difference in terms of processing power between the two Apple devices. The iPhone 6 comes with an Apple A8 chip, one of the fastest mobile SoCs available on any device, while the Watch is built on an Apple S1 chipset, which is said to provide the same kind of horsepower as the Apple A5 chip that powered the original iPad Mini and the fifth-generation iPod Touch.
One thing to bear in mind is that the Apple Watch unit in this video, which was apparently captured inside an Apple retail store, is most likely a test unit. At the moment, we do not know if there are any differences between retail-ready units and demo units, but at the very least, the demo units could come with a non-final version of the software. In any case, here is the leaked Apple Watch boot video:
Apple opened up for
Watch pre-orders
a little more than a week ago, but only a small percentage of customers will receive their units on April 24th when the Watch officially launches. Depending on the exact model, some shipping estimates are currently pushed back as far as June.